Product value: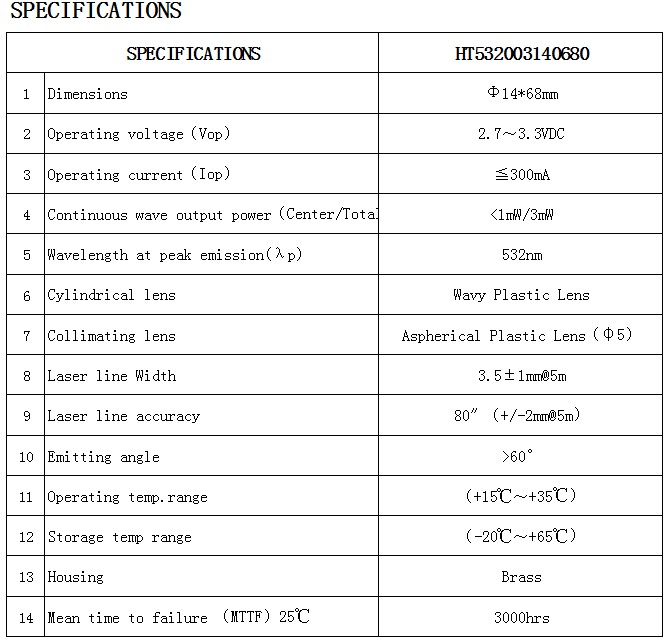 Product overview:
Green Laser module adopts high quality imported diode.532nm stable output and intelligent feedback control circuit, low power consumption, high efficiency optical power output, pure copper shell, good heat dissipation and long service life.The main applications are all kinds of electric tools, measurement, instrument, equipment, level meter, locator, range finder, thermometer, laser marking instrument, all kinds of plate cutting machine, stone machine, woodworking machine, metal saw machine, packaging machine tool, line, and clothing type (sewing machine, cutting machine, automatic manual break machine, bag opening machine, knob machine, drawing machine, etc.) Embroidery machine, printing machine, nail bead machine, nail buckle machine, rivet machine, beer machine) electronic equipment, mouse, U disk, camera, cell phone, projection teaching pens, laser pen, handicraft, interior and exterior decoration, flashlight, gift, toy products.It sells and provides supporting services from HeTong optics electroic factory. The price is more affordable, providing different grades of laser modules to meet different customer needs
Product use:
The Green light spot adjustable products are used in all kinds of industrial indicator, industrial laser module, laser locator, dot laser, word line laser, cross laser, parallel line laser, large circle laser, laser marking device, semiconductor laser, red light positioning light, red laser light, laser module, red light feeder, laser transmitter, infrared positioning light. Infrared locator... Etc.
User knowledge:
1.Laser is harmful to the eyes,please don't directly aim at the eyes of people and animals,because the strong light characteristic of laser itself is far beyond the scope of human and animal eyes.
2.The module is an electrostatic sensitive device,In the process of packaging, transportation and use, we must strictly observe the device's anti-static protection measures.We should also pay attention to prevent surge impact from power supply, otherwise it will cause permanent damage to the device.